Website hosting and business cloud services for businesses in Sugar Land / Houston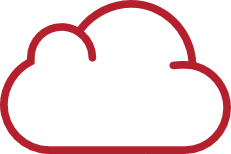 Which cloud is right for your business?
So you want to go to the cloud?
Cloud computing services offer a big promise. Instant access, unlimited connectivity, the ability to pay as you grow, and the illusion of simplicity. Until you realize it isn't anymore. Choosing CPU, memory, disk storage, up and down bandwidth, and the cloud provider can be difficult for the uninitiated. At CMIT Solutions, we have designed thousands of cloud solutions, so our experience can help.
An unmanaged cloud can lead to a rainy day.
An unmanaged cloud can lead to unexpected and unwelcome surprises. We're fond of saying that an unmanaged cloud leads to a rainy day. Your cloud is a virtual data center and we manage it with the same care as we give to all of your systems.
What are your options?
We also offer design services to help you size what you need, and monitor your cloud so you can grow your resources at the right time. We bring your cloud into the same management and support umbrella as all of your systems, and offer Ultra Service, a flat rate support model that includes everything for one fee.

Design
Together we can evaluate your requirements and design that cloud solution to meet your needs. We seek to balance cost, performance, and redundancy.

Provision
Our team takes care of provisioning your cloud environment. We can migrate your data, applications, and on-board your team with their credentials.

Manage
Each month, we review your cloud consumption, highlight emerging operational issues, and help you prepare for growth.

Over 160 locations.
Wherever you are.
What makes CMIT Solutions support different?
Your CMIT Solutions team is part of a North American wide support network. Over 160 different locations and more than 700 technicians are available to support your business. Have multiple locations or key team members traveling? No problem. We can coordinate support to any location, and every member of the CMIT Solutions extended community uses the same business practices, management tools, and ticket tracking systems. Work flows seamlessly through our system for you.
The CMIT Promise
What are you looking for in an IT provider? Part of the CMIT Solutions culture is our commitment to service. Our CMIT Promise is this – we will be at your side until your problems are resolved and you are satisfied. We will defend your network, protect your data, eliminate chaos and be a true partner.
RELIABLE SUPPORT + PROVEN VALUE
Get in touch today to learn more about what we can offer as Your Technology Team.
"Our line of work is dependent on IT and we can't have any downtime. CMIT has helped us grow from three employees to 20, and they've helped us manage our growth and begin working with remote employees, keeping us all connected."
Michael Mills, President | Broadwing Aviation
Discover all the ways companies succeed with CMIT Solutions.
Non-Profit thrives thanks to responsive IT help desk computer support.
CPA firm grows thanks to trustworthy IT support and reliable network management.
Medical clinic prevents disaster with proactive IT solutions and managed IT support.
Leverage Exclusive Partnerships with World-Class Technology Companies

Let's talk about your IT needs and how we can help

Sign up for 'QuickTips' our weekly email full of productivity tips for your business
Providing IT Services and Support for Sugar Land / Houston, TX
RELIABLE SUPPORT + PROVEN VALUE
Get in touch today to learn more about what we can offer as Your Technology Team.