Focus on your students. We will take care of the technology.
Managed IT Services for Education
At CMIT Solutions, we specialize in supporting both private and public educational institutions, from charter schools, to local school district campuses. We understand you need to protect your students and their private data while balancing the needs of your staff to access infromation and systems for lesson planning and other daily activities.
We can design a support matrix that maximizes your budget while respecting the needs of each community. We love critical summertime projects. We manage it all including Chromebooks, tablets, servers, and networking.
We improve your team's efficiency and give you the advice you need in these challenging times where technology is rapidly changing.
Focus on your students and staff, while we help you:
Protect student private data
Advance learning with video conferencing, electronic blackboards, and VoIP
Defend your network perimeter and prohibit inappropriate web browsing with strong heuristic DNS filtering
Empower your staff with 24/7 help desk support

Let CMIT Solutions help you focus on what matters most to your school.

We know the technology tools that leaders in the education industry rely on every day. Let us manage your IT so you can improve student outcomes.
Custom IT Solutions for Education
Is it possible to keep up with the IT demands in education? We can and do. First, we support schools across North America, each with their own unique requirements. We respect that your school and community may have special needs and we work together to meet those requirements.
Common issues we've solved include:
Segmenting networks between students and staff, limiting internet access and blocking specific categories of sties
Building technology labs that support student learning including support for Windows and iOS systems
Crafting disaster recovery and data protection plans, and recovering from inadvertent mistakes
Supporting remote students
We are proud to support and ensure uptime of your systems, providing support for third party applications and will liaise with the vendor should any issues arise.
You can be assured that we will take the time to understand your specific needs and devise a tailored solution which will enhance your productivity and help you get your work done faster.
"At Alpha Industries technology is critical to the success of our business. When we first started our business we had a friend come in and set up our server, but we quickly outgrew that set-up. That's when we realized that we really needed a partner whose core focus was on technology and that's what they were known for. Working with our local CMIT Solutions office, they have really expanded upon even what I thought what our needs were and have been able to think proactively about future steps our company might take. CMIT has really exceeded any and all of my expectations in planning that roadmap ahead of us. "
Trent Henckell, CEO of Alpha Industries, LLC
IT Services for your Business
Our local CMIT Solutions team can handle all of your hardware, software, cloud computing, networking and cyber security needs. Be sure to ask about our encrypted email service, data encryption, secure networking, and secure guest Wifi offerings.

Procurement
Let us handle the purchase of new hardware, software and other mission critical IT equipment at discounted prices.

Multi-Location Support
No matter where you are, chances are, that we have an office nearby. Get the IT support you need, wherever you are.​ Learn more about our Products and Services.​

Cloud Solutions
Secure access to manage your documents, files, emails and other critical assets from anywhere.

Network Security
Manage access to your most important data and keep critical information secure with firewalls and monitoring. Improve your business performance with the right mix of network management, security and bandwidth.

Backup and Recovery
Mistakes happen, computers fail, people drop things. Protect your data, keep your employees up and running.

24/7 IT Support
Have an IT problem? We can help. Whatever the question is, we are on call, helping you to get whatever it is you need done. Learn more about our Products and Services.

Managed Print Services
Never run out of toner again. Save time and money with intelligent permission based print management solutions.

Mobile Device Management
We manage every device your team uses. Tablets or phones, no problem. Learn more about our Products and Services.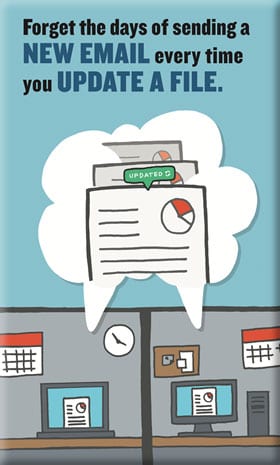 5 Reasons Why File Sync and Share is Critical for the Success of your Accounting Company
Just because you can access a document in the cloud or on your computer doesn't mean it's safe, shareable, or even up to date.
Consider how essential it is for you and your employees to have the ability to access, edit, and collaborate on documents in an efficient and secure way no matter where you are or what type of device you are using.

Let's talk about your IT needs and how we can help

Sign up for 'QuickTips' our weekly email full of productivity tips for your business
Providing IT Services and Support for Sugar Land / Houston, TX
RELIABLE SUPPORT + PROVEN VALUE
Get in touch today to learn more about what we can offer as Your Technology Team.