Serving our communities together
Managed IT Services for Non-Profit firms
Non-profit firms rely on technology to connect donors, sponsors and volunteers, and to raise awareness in their communities. Non-profit "back-office" functions such as financial reporting, sustainability planning, and performance measurement require technology. Many non-profits have the same IT requirements as their "for profit" cousins, driven by the expectations of their community.
But when you struggle with cash flow issues or want to dedicate every possible dollar toward your mission, how can you afford the proper infrastructure?
At CMIT Solutions, we are dedicated to our local community as our non-profit neighbors. We can help.
User technology to achieve your mission:
Protect donor, sponsor and client private information
Deploy a multi-layered cyber security framework to repel cyber attackers
Engage your community with mobile applications to accelerate fundraising
Trust our expertise to deliver new options and better efficiencies

Let CMIT Solutions bring the same level of professionalism and expertise to your IT infrastructure as you do to your clients.
We know the technology tools that companies in the non-profit world rely on every day. Let us manage your IT so you can manage your business.
Custom IT Solutions for your Non-profit Company
Non-profit organizations represent the heart and soul of many communities. In our every more connected world, you need to have the same access to people and information as anyone.
We understand the challenges non-profit organizations must address, such as:
The tension to balance costs against success of the mission
The need to top of mind and easily accessible to donors, volunteers and influencers
The challenge of producing top quality experiences for donors and your community
Managing a diverse group of staff and volunteers during high stress events
We are proud to support and ensure uptime of your systems, providing support for third party application and will liaise with the vendor should any issues arise.
You can be assured that we will take the time to understand your specific business needs and devise a tailored solution which will enhance your productivity and help you get your work done faster.
"At Alpha Industries technology is critical to the success of our business. When we first started our business we had a friend come in and set up our server, but we quickly outgrew that set-up. That's when we realized that we really needed a partner whose core focus was on technology and that's what they were known for. Working with our local CMIT Solutions office, they have really expanded upon even what I thought what our needs were and have been able to think proactively about future steps our company might take. CMIT has really exceeded any and all of my expectations in planning that roadmap ahead of us. "
Trent Henckell, CEO of Alpha Industries, LLC
IT Services for your Business
Our local CMIT Solutions team can handle all of your hardware, software, cloud computing, networking and cyber security needs. Be sure to ask about our encrypted email service, data encryption, secure networking, and secure guest Wifi offerings.

Procurement
Let us handle the purchase of new hardware, software and other mission critical IT equipment at discounted prices.

Multi-Location Support
No matter where you are, chances are, that we have an office nearby. Get the IT support you need, wherever you are.​ Learn more about our Products and Services.​

Cloud Solutions
Secure access to manage your documents, files, emails and other critical assets from anywhere.

Network Security
Manage access to your most important data and keep critical information secure with firewalls and monitoring. Improve your business performance with the right mix of network management, security and bandwidth.

Backup and Recovery
Mistakes happen, computers fail, people drop things. Protect your data, keep your employees up and running.

24/7 IT Support
Have an IT problem? We can help. Whatever the question is, we are on call, helping you to get whatever it is you need done. Learn more about our Products and Services.

Managed Print Services
Never run out of toner again. Save time and money with intelligent permission based print management solutions.

Mobile Device Management
We manage every device your team uses. Tablets or phones, no problem. Learn more about our Products and Services.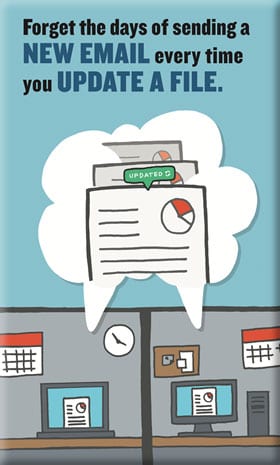 5 Reasons Why File Sync and Share is Critical for the Success of your Accounting Company
Just because you can access a document in the cloud or on your computer doesn't mean it's safe, shareable, or even up to date.
Consider how essential it is for you and your employees to have the ability to access, edit, and collaborate on documents in an efficient and secure way no matter where you are or what type of device you are using.

Let's talk about your IT needs and how we can help

Sign up for 'QuickTips' our weekly email full of productivity tips for your business
Providing IT Services and Support for Sugar Land / Houston, TX
RELIABLE SUPPORT + PROVEN VALUE
Get in touch today to learn more about what we can offer as Your Technology Team.